[icon color="Extra-Color-2″ size="regular" icon_size="" image="iconsmind-Dog"] Dog-friendly! [icon color="Extra-Color-2″ size="regular" icon_size="" image="iconsmind-Dog"]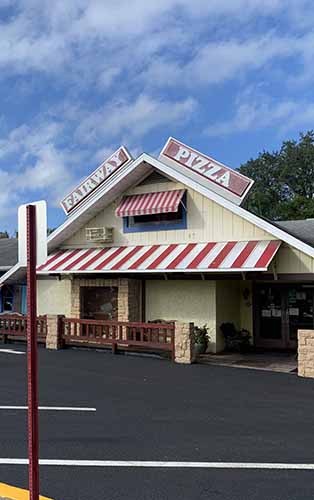 Fairway Pizza and
Sports Page Pub

Monday – Thursday 11am – Midnight
Friday & Saturday 11am – 1am
Sunday 11am – 11pm
Fairway Pizza | 2901 U.S. 19 Alt Palm Harbor, FL 34683
About Fairway Pizza

For years we have served great food in a warm, comfortable atmosphere. For that reason, many of our customers have become like family to us. We hope to make you a part of our family also.
Our food is prepared from our own recipes, using nothing but the best and freshest ingredients available.
We do our best to be as prompt as possible in preparing your food. However, we will not compromise quality, so on occasion, we may have to ask you to be patient. We know you will agree that it was well worth the wait.
So enjoy, and welcome to the family.
Steve And Kathie