On April 29th, Fairway Pizza is teaming up with Suncoast Animal League to raise money for dogs in need with a dog wash! We're proud to be one of Palm Harbor's dog-friendly restaurants.
Dog Wash Event at Dog-Friendly Fairway Pizza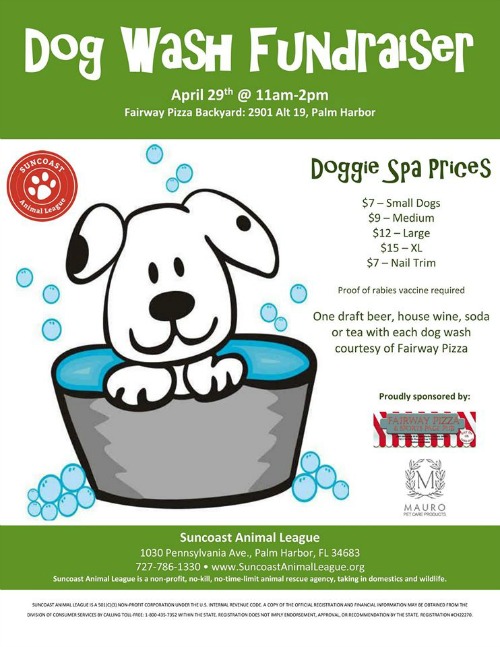 When?
Between 11 am and 2 pm on Sunday, April 29th, Suncoast Animal League will be welcoming dogs for doggy spa services.
What?
For $7 for small dogs, $9 for medium dogs, $12 for large dogs, and $15 for extra-large dogs, you can get your pup scrubbed until they're squeaky clean! Add $7 and they'll also cut your dog's nails for you!
All funds raised by the dog wash event will go directly to the non-profit organization, Suncoast Animal League, to support their animal welfare efforts.
What's Required?
Aside from your fee, in order to ensure that every dog at the dog wash event is safe, every dog must have proof of a rabies vaccination before they can be washed.
Perks
As the official sponsor of the Suncoast Animal League dog wash event, Fairway Pizza is providing a complimentary draft beer, house wine, soda, or tea for every dog wash you purchase!
Why Support Suncoast Animal League?
Located in Palm Harbor, Florida, Suncoast Animal League is dedicated to serving the community by protecting the welfare of animals in Palm Harbor.
A non-profit, no-kill, no time-limit rescue organization, Suncoast Animal League is dedicated to not only assisting domestic animals in need, but they also help to care for local wildlife, too!
Unfortunately, as a non-profit organization, Suncoast Animal League is often underfunded and their resources are always overtaxed! It is only through events like the dog wash being held at dog-friendly Fairway Pizza's Palm Harbor restaurant!
You can read more about the efforts of Suncoast Animal League on their official Facebook page here!
Why Fairway Pizza?
Not only are we donating space for the dog wash event, but we are also offering complimentary beverages for each dog wash purchase! Why is Fairway Pizza in Palm Harbor, Florida hosting this event? As a small business, Fairway Pizza located at 2901 Alt 19, recognizes the importance of giving back to the community.
The large backyard at Fairway Pizza offers plenty of room for a dog-friendly event and our incredible menu inside the restaurant is definitely people-friendly! In fact, our Fairway patio is dog-friendly too, which means that after your dog's spa experience, you can enjoy a slice or two!
Want to know more about what Fairway Pizza has to offer? Check out our official Facebook page,.
Be There or Be Square!
Why should you bother to drop by this dog-friendly event at Fairway Pizza? Besides supporting an incredible cause, you will have the opportunity to grab a free drink, a cheap dog bath, and you may even make a few friends! (Plus, having someone else cut your dog's nails is always a big plus!)